Welcome to the United Reformed Church at Haverhill, Suffolk (locally known as the Old Independent Church or O.I.C).
The O.I.C. has been present in Haverhill since 1662. We are a happy congregation with a mixture of age groups and talents. Our new Minister, Rev Elaine Colechin, leads worship on regular basis during the year.
The Church is the people and we believe in being available where we can both for each other and those around us; providing a base for church and community activities.
We are a small congregation but a growing one covering all ages including a number of young families.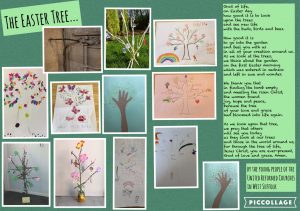 Rev Colechin challenged us in Holy Week to think about the tree we gaze upon at Easter, our young people have risen to the challenge and above are the results… a forest that is full of life and hope. We dearly hope this gives you all some cheer at this trying time.
Our mission statement is Jesus Is Lord and our vision is to Go Out & Make Disciples. We believe that the Good News of Jesus Christ is something to celebrate.
Sunday Services usually alternate between the main Church Building from Easter onwards, and the Church Hall after Harvest and during the winter months. We are currently following government advice and have suspended Sunday worship at our Church Building for the foreseeable future. For information on how we are continuing take part in worship activities at home see our Services tab or contact us.
Please see News & Events or Regular Activities to check details.
So please don't be nervous, just drop on by, as a warm welcome awaits you.
We look forward to seeing you,
Elders and Congregation